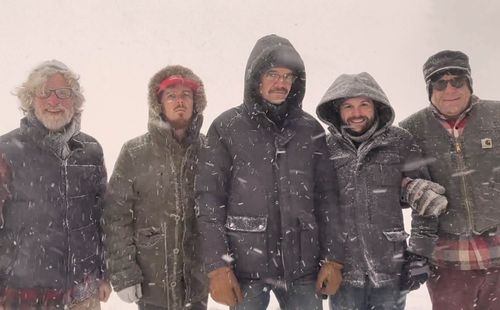 After the strange year that was 2020, (and after covid tests and quarantines) we came together in March 2021 to record for three days and nights. The recording project took place at John's cottage on the shores of Beaver Lake in the heart of the Kawartha Highlands of Ontario. The 70-year old cabin proved to be the perfect place to make this project happen, save for a full-day power outage caused by a bitter winter storm (-18 degrees) on Day 3 that threatened to scuttle the session. We lit candles, picked tunes in weird tunings, took a band photo on the frozen lake and waited for 6 hours with beers and good cheer until the power was thankfully restored. 
Although this group of musicians had never played as an ensemble before (Sam and Mark had never even met), most of us had crossed paths enough at jam sessions, green rooms, and parties to know that there was a common musicality. Our enforced time off the road offered a rare opportunity to all be in the same place at the same time. 
When we started playing on Saturday night, not only was it the first time we'd played together, but it was the first time any of us had played in a group that size for an entire year!  The music felt like a gift from the first downbeat. It also felt like revisiting an old addiction. It was a totally exciting and unique experience which we think is echoed in what you'll hear on the album. 
Leading up to the session we exchanged emails and narrowed down a tune list which included many fine tunes from some older sources (Ed Haley, Eck Robertson, Lowe Stokes, Ernie Carpenter) as well as some more modern ones (Garry Harrison, James Bryan, Bill Monroe, Kenny Baker). 
Our approach to playing the material was to be very free and fluid with the arrangements,  background textures, and dynamics. We were inspired by John Hartford's "Windows" system of playing rhythm for old-time music. While we didn't follow it to the letter (and on some tunes didn't follow it at all), we borrowed its spirit of improvisation. Although a lot "goes down" in the backup, the arrangements happened on the spot, and in the moment - there was no planning and no safety net. The result was some old-time music that is balanced on a knife-edge, which can go from kick-ass to crazy to vulnerable in a heartbeat (we think in a good way). 
Bringing this project to fruition would not have been possible without the support of all the people who joined in our Kickstarter campaign - thank you. The band would also like to acknowledge the ancestral lands of the Anishinabewaki and Mississauga people, upon which we recorded this album.
What is John Hartford's Windows System?
A bass harmonica in old-time music?
After a "covid-imposed" year of not playing the upright bass, Sam's calluses needed a break! Lucky for us he brought his bass harp!